 
Tenute Santa Chiara DOP in a can

The umbrian extra virgin olive oil dop Tenute Santa Chiara is made using selected olives, lovingly hand-picked in our Montefalco olive groves. Its taste is elegant and complex, with well-balanced bitter and pungent notes. Its aroma is fresh and rotund with strong herbal notes. 
Can Format
Data sheet
Harvest location

Montefalco (PG)

Average altitude

400 m above mean sea level

Harvesting system

hand-picking

Harvest period

October

Extraction process

continuous cycle

Olive varieties

Moraiolo (40%) Frantoio (40%) Leccino (20%)

Colour

green with soft golden hues

Medium

Medium fruity
Tenute Santa Chiara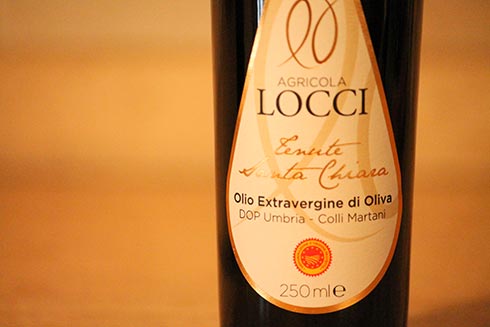 Extra virgin olive oil "Dop Umbria Colli Martani" is obtained by selected olives hand-picked in October, slightly premature in their ripeness cycle, only in our Montefalco olive groves. This process gives the oil an intensely green colour, intensifying its organoleptic properties at the utmost. 
Moraiolo, Frantoio and Leccino olive trees in Montefalco produce high-quality olives that, harvested and pressed within 12 hours, give an intense aromatic flavour to this oil. 
Its taste is elegant and complex with balanced bitter and pungent notes. Its aroma is fresh, rotund and rich in artichoke, almond and chicory notes with hints of mint and rosemary. 


Data sheet:
Superior category olive oil obtained directly from olives and solely by mechanical means.
Average nutritional values ​​per 100 ml:
Energy: 3389KJ - 824Kcal; Fat: 92g, of which saturated: 14g; Carbohydrates: 0g; of which sugars: 0g; Proteins: 0g; Salt: 0g; Vitamin E: 15mg.
Keep away from sources of light and heat.

Oil Produced and bottled at: Agricola Locci - Via Case Basse 55, 06030 Giano dell'Umbria (PG) ITALY
Healthy properties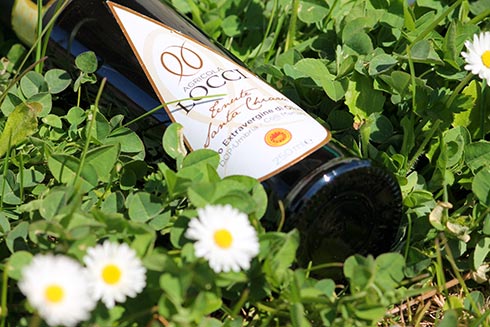 Polyphenols are essential ingredients in Extra virgin olive oil. The high level of polyphenols is indicated by the typical bitter and pungent taste of this oil. 
A very important chemical compound for our health, polyphenols are:
antioxidant, combating the "free radicals" of our organism and thereby helping prevent tumours and other illnesses.
reduce bad cholesterol and the risk of heart attacks.
can control the immune system and especially the inflammatory processes associated with it.
Extra virgin olive oil is also rich in unsaturated fatty acids, especially Oleic Acid, which is considered the "guardian" of arteries because it binds with cholesterol and disperses it in the blood. 
It should be noted that Extra virgin olive oil contains no cholesterol. Oleic acid in fact reduces bad cholesterol levels whilst increasing beneficial cholesterol levels. 
Culinary tips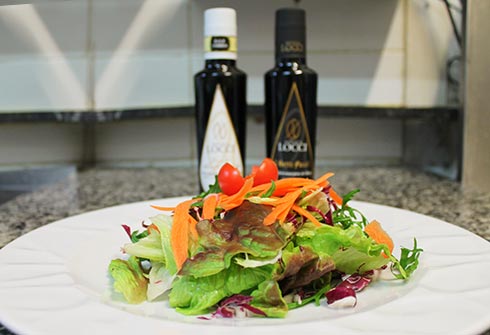 Noted for its aromatic flavour, a drizzle of this olive oil is ideal on legumes and vegetable soups before serving. Excellent for seasoning red meats and prized fish, this oil is also perfect with salads and over fresh cheeses that intensify its aroma. 
The format of the oil can is perfect for storing the oil stock in your kitchen or warehouse.