 
Umbrian chickpeas
Agricola Locci
Umbrian Chickpeas made by Agricola Locci are the result of Umbra's agricultural tradition. Cultivated and processed according to the ancient rural tradition. 100% Umbria.
Data sheet
Harvest location

Spoleto

Average altitude

250 m slm

Species

cicer arietinum

Sowing period

March

Harvest period

July and August
The Agricola Locci chickpeas are expertly cultivated, produced and packaged exclusively in Umbria in accordance with the integrated farming directives. They are exceptional in terms of authenticity and unique nutritional properties. The "cicer arietinum" variety is sown in March and harvested in July-August. Rich in proteins and fibre, chickpeas are ideal for people seeking a healthy and equilibrated diet. Perfect in salads and soups.


Data sheet:
Average nutritional values ​​per 100g of product:
Energy: 1323Kj - 316Kcal; Fats: 6.3g, of which saturated 0.81g; Carbohydrates: 46.9g; of which sugars: 3.7g; Fiber: 13.6g; Proteins: 20.9g; Salt: 6mg; Water: 8.6g
Food subject to natural weight loss. It may contain traces of GLUTEN.


Produced and packaged for Agricola Locci at: Fraz. Protte di Spoleto 38, 06049 Spoleto (PG) ITALY


Umbrian Tradition recipe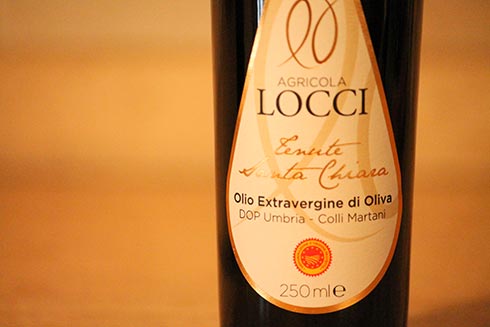 CHICKPEA SALAD WITH TENUTE SANTA CHIARA EXTRA VIRGIN OLIVE OIL
INGREDIENTS 
200g chickpeas - 5 cherry tomatoes - 50g black olives - 2 carrots - 1/2 onion - 1/2 celery - 30 ml extra virgin olive oil - salt, black pepper, thyme according to taste
METHOD 
Place the chickpeas in a large bowl and cover them completely with tap water. Leave them to soak for approximately 10 hours. Rinse thoroughly and cover with water again. We recommend not adding salt because the chickpeas may become tough. Bring that water to a boil and cook for approximately 60-75 minutes, skimming off any foam from the surface if necessary. Drained and rinse the chickpeas before placing them aside to cool.
Add the olives, cherry tomatoes, carrot, onion and celery finely chopped and also olive oil, thyme, salt and black pepper. Finally mix the chickpeas salad very well and let it rest for approximately one hour.